Good Questions Deserve Good Answers
#Christianity #College #Conversation #Culture
"I don't have a direct affiliation with Faith Ascent but I want to tell you it's where my heart is. We need to stem this tide. Our kids are vulnerable."
Lee Strobel, Author, Speaker
"Every pastor has strengths and weaknesses. You accent your strengths and supplement your weaknesses. This is why I wish Faith Ascent would expand to other cities! I'm so encouraged by their programs!"
Josh McDowell, Author, Speaker
"A recent study showed that creating space for students to doubt and ask questions is critical. It's ministries like Faith Ascent that are taking students seriously and helping them to think through the answers to the big questions."
Sean McDowell Ph.D., Professor, Author, Speaker
"Faith Ascent is a ministry that is concerned that the Gospel be heard, received, and considered again. Base Camp, as I've experienced it, has been a wonderful occasion in which those students preparing themselves for college are hearing a wide range, not just of intellectual answers, but also answers to the questions which our culture throws out to us."
Mark P. Ryan, Director, Francis Schaeffer Institute, St. Louis, MO
"I just wanted to let you know how thoroughly impressed I was with the entire Faith Ascent team of staff and volunteers, as well as the overall structure, organization, themes / topics, and student interaction. I truly feel blessed to have been a part of it.
I appreciate the way you have Q&A built into each session so they can ask general questions. I had great questions from the students during my talk session but afterward, one on one, is when more in depth and personal questions dealing with morality and what the scriptures say (about abortion and consensual premarital sex came up with several of the girls).
I have been a part of several apologetic camps but the way you have yours organized with a variety of topics and the time structure etc. makes it second to none. Faith Ascent offers a top notch interactive program. There should be a waiting list. I hope you never stop doing Base Camp. Every Christian teen needs it."
Jannique Stewart, Pro-Life Apologist, Life Training Institute, Colorado Springs, CO
"The focus on formation and discipleship that I hear about in organizations like Faith Ascent can help equip younger Christians to engage charitably in a world of difference through confidence in their own beliefs."
John D. Inazu, Distinguished Professor of Law and Religion, Washington University, St. louis, MO
"Faith Ascent is a ministry your teenagers should be involved with because 75% of Christians walk away from their church after leaving home!"
Frank Turek Ph.D., Author, Speaker
Since 2009, Jeremy Smith and several Faith Ascent speakers have been foundational to our "Teen Track Talks" at many of our home education conferences. Our home educating parents have appreciated this ministry so much that Jeremy has been asked to be a charge speaker at multiple high school graduation ceremonies. I highly encourage any youth ministry to host a Faith Ascent seminar, small group, or attend their summer camp. It will be life changing."
Cathy Mullins
Board Member of Greater St. Louis Area Home Educators Expo
Director of St. Louis Homeschooling Activities, Resources & Encouragement (S.H.A.R.E.)
"Because we are losing 58%-88% of our young people when they get out on their own, I believe the battle for our faith will be won by reaching them early. Faith Ascent is necessary to the life and growth of the church. Faith Ascent is serving the local church and families to help their young people become firm in their faith. I thank God for Faith Ascent Ministries and for Jeremy Smith."
Bev Ehlen, Director, Concerned Women of America, St. Louis, MO
As a homeschool group leader of many years and as an instructor in college model science classes, I would encourage all parents of teenagers to make sure their teens attend Base Camp at least once, and more than once if possible! In just one week, students are challenged to think about so many biblical and worldview issues – from science to the reliability of scripture and the reality of the resurrection to the postmodern culture, sexual ethics, the value of life and even to understanding how to evangelize and love those who think and live differently. Recently, I was speaking to a group of teenagers. One teen indicated she really wanted to go on the mission field. I encouraged her to go to Faith Ascent Base Camp first. Another teen chimed in with a resounding, "Yes! Yes, you should go!"
Margaret Porch, Leader – St. Charles Christian Home Educators Science Instructor At SCCHE Learning Center
"I am concerned about the number of young people who abandon their faith upon entering the university. I hope you are concerned too. Our culture is so noisy that young people (and older people) struggle with defending the claims of Christianity reasonably and respectfully. I strongly encourage you all to send your young people to Base Camp."
Luke Bobo Ph.D., Director, Made To Flourish
"Jeremy Smith's ability to engage young people is awesome! CBMC is using Jeremy to speak to our men and equip them to think about what they believe and why they believe it. Through our partnership with Jeremy and Faith Ascent I am personally committed to the work they are doing on behalf of our Lord."
Stanley Bower, Area Director, CBMC
"Faith Ascent, made a wonderful presentation to the St. Louis Assemblies of God ministers about the increasing drop out rate of young people raised in our churches… To address the problem, Faith Ascent conducts an annual apologetics summer camp called Base Camp. I highly recommend the camp."
John A. Wilson, Pastor Emeritus, West County Assembly of God Church, St. Louis, MO
"Our students are faced daily with challenges to their faith. Both externally, among their peers, and internally, with their own doubts. Faith Ascent's teaching team organized a weekend of solid teaching for our winter retreat. They surveyed our students in advance so they were able to customize their talks. I am still referring to their talks in conversations with my students. I am so thankful for this ministry."
Will Mooney, Senior High Youth Director, Covenant Presbyterian Church (PCA), Nashville, TN
"We recently held an adult volunteer retreat. One of the highlights was hearing Jeremy Smith of Faith Ascent explain why teens, now more than ever, need to have established a Biblical worldview before they leave high school. Faith Ascent is really breaking molds in the field of apologetics, and I am looking forward to continue growing our partnership in the coming years."
BJ Filla, Director of Youth Ministries, SunRise UMC, O'Fallon, MO
"Most student ministry programming tends to focus more on the personal piety aspect of Christian development, which is very important. Faith Ascent fills a critical void in seeking to fortify young Christians intellectually, preparing them for the endless marketplace of ideas and world views. Praise God for raising up a ministry of this sort!"
Aaron Goldstein, Associate Pastor, Cornerstone E-Free Church, Kirkwood, MO
"Faith Ascent did three sessions with our group. I have never seen our young adults more excited about the things they were learning. They couldn't stop talking about the lessons. I would HIGHLY recommend Faith Ascent for any seminar, conference, camp, or church service!"
Matt Netzer, Student Ministries Director, St. Charles First Assembly of God, St. Charles, MO
"Faith Ascent is worth every student ministry leader's consideration. With a clear purpose and a thoughtful game plan, no student ministry should dismiss this program. I have appreciated, most of all, that Faith Ascent is guided by effective and committed leadership, going about the work of ministry to students in a 21st century context."
Dan Borth, Minister to Students, Ridgecrest Baptist Church in St. Charles, MO
"Our kids are falling prey to warped perspectives that confuse and destroy the Christian worldview. In my experience there are many ministries that attempt to answer the question of "What should we do about this?" but only a few answer it correctly. Faith Ascent answers it correctly! Thank you Faith Ascent!"
Chris Holland, Youth Pastor, Eastern Shores Presbyterian Church (PCA), Fairhope, AL
"In a culture where biblical understanding is at an all time low, Faith Ascent speakers helped equip our students to understand the relevance, reliability, and unquestionable truth that is in God's word… Every youth group needs this type of specialized message to equip its students and leaders."
Ron John, Youth Pastor, Victory Church in Pevely, MO
"Jeremy was energetic, engaging, and practical. He challenged our teens to take issues of faith seriously. He encouraged us to begin thinking about where others might be and to begin building simple bridges for them to come to faith in Christ. I would invite him back in a heartbeat."
Ryan Sparks, Youth Leader, The Journey (Tower Grove Campus), St. Louis, MO
"Faith Ascent is a linchpin ministry for the local church. They specialize in topics that local church leadership may struggle with. They have specialized teachers who have proven records in their field. Each visit to your church is tailored to meet your people's greatest needs. We plan on Faith Ascent becoming a regular part of our ministry here at The Journey West County."
Cory Ball, Youth Pastor, The Journey (West County Campus), St. Louis, MO
"How we think about truth and what we believe is true is the most important thing to get right as a believer. Faith Ascent will be a key piece to augment that process for our students."
Lonnie Trembly, Associate Pastor, First Baptist Church, Columbia, IL
Watch Our Promotional Video
Follow Us!
3 months ago
Join us in #StLouis for a charitable, critical, & creative conversation on #science and #scripture. 3 experts. 3 perspectives. Tickets are free but seats are limited. Register here: https://t.co/1ELi6gEiV4 https://t.co/Oci9ve2YDX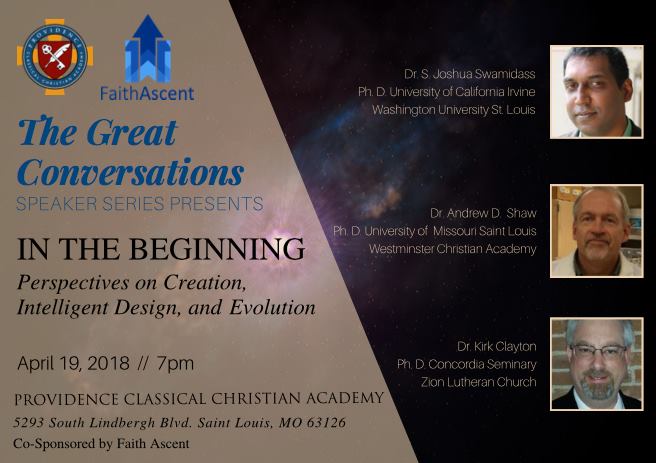 5 months ago
Lots of events this month in #StLouis #Missouri and #Illinois related to #apologetics #mission #evangelism and #prayer. Visit the Faith Ascent calendar for details: https://t.co/tjITBHHNP7 https://t.co/YGrdzNKygH