Good Questions Deserve Good Answers
#Christianity #College #Conversation #Culture
Jeremy R. Smith
Executive Director
Since 2010, Jeremy R. Smith has been serving Faith Ascent Ministries as their Executive Director. Faith Ascent is a para-church ministry on a mission to reduce the number of young Christians abandoning their beliefs in college and disengaging from the church.
Jeremy studied Christian Apologetics & Philosophy through Biola University in La Mirada, CA and is currently studying select topics related to Apologetics & Evangelism at Covenant Theological Seminary in St. Louis, MO. Jeremy is a member of The Christian Apologetics Alliance, The Missouri Apologetics Network, St. Louis' Reasonable Faith Chapter, and Midrash (Commentary on Culture) in St. Louis. Jeremy also serves as a Corporate Chaplain at Cordell & Cordell (A Domestic Litigation Firm).
Jeremy's life miraculously changed when Jesus rescued him in 1996. Since then, personally and professionally, he's been passionate about helping Christians and non-Christians to think through and seriously consider what they believe, why they believe it, and why it matters. Jeremy is a self described "debtor to unearned grace, advocate for the local Church, and backyard missionary."
Jeremy is happily married to Katie and is a grateful father to Elijah 8 and Lucy 7.
Juliana Scheidhauer
Special Events Coordinator 
Juliana currently works as Administrative Coordinator for Faith Ascent Ministries. She is also a student at Thomas Edison State University earning her Bachelors of Science in Business Administration in Finance and Accounting.
She loves being productive, learning, developing new skills, gaining new understandings in business, finance, economics, and studying the word of God.
Kimberly Hartmann
Administrative Director
After almost 20 years in the healthcare industry, Kimberly is thrilled to become part of the Faith Ascent team. She was previously the Director for her professional school's alumni association and brings with her those skills to run the day to day operations.
She and her husband Mark have been married since 1997. They enjoy spending time with their two children and are very proud of the individuals that they are becoming. She is excited to have the chance to build relationships with other Christ-followers and be a positive example for the younger generation who are looking for answers.
Laura Dalpiaz
Bookkeeping
Laura Dalpiaz serves as Faith Ascent's bookkeeper and accountant. Laura is the president and founder of LEM Business Solutions. Since 2005, Laura's client base has grown to service dozens of companies including Churches and Non-Profits.
Board of Directors
Thad Leach, J.D.
Board President
Thad is a seasoned and skilled negotiator, adviser, strategist, and lawyer. He has advised and advocated for clients as an attorney and corporate counsel, yet possesses substantial C-level business experience. Clients commend Thad for his discernment, analysis, and ability to develop and execute tactical plans that achieve desired outcomes.
Thad's career in health care began at the Centers for Medicare and Medicaid Services regional office in San Francisco. He carried the benefits of this exposure with him when he started his law practice at Thompson Coburn in 1994. An attorney with a diverse practice for more than 20 years, Thad draws on his deep experience in business, having served as the chief executive for a private equity group with stewardship of a diverse investment and management portfolio, including interests in heavy manufacturing, retail automotive, media production and distribution, real estate development, and professional sports and entertainment.
Joseph E. Cordell, J.D., C.P.A., LL.M
Joseph Cordell is the Principal Partner and Co-Founder of Cordell & Cordell, a domestic litigation firm dedicated to helping men and fathers through sensitive and often painful family law matters. Since co-founding the firm with his wife, Yvonne, Mr. Cordell and his team of attorneys have advocated for thousands of men and fathers to ensure their lawful rights are not violated or compromised because of their gender.
Mr. Cordell is a respected voice in conservative Christian circles and has appeared on or guest hosted radio programs including FM Talk with Jamie Allman and Phyllis Schlafly Live with Phyllis Schlafly. His columns have appeared in the American Conservative, the St. Louis Metrovoice, on AskMen.com, and on HuffingtonPost.com. As a concerned Christian, Mr. Cordell advocates for the advancement of Christian apologetics to support a Biblically informed Christian worldview in the home and in the church.
As The Chairman of the Board for Faith Ascent Ministries, Mr. Cordell provides strategic leadership and guides the effective performance of the Executive Director and the Board of Directors.
Mr. Cordell and his wife Yvonne have two daughters, Elizabeth and Caroline.
John Scott, CPA, AEP/CGMA
John is a partner at Anders. Anders is a CPA and advisory firm serving privately held companies and high-net-worth individuals. John has extensive experience in helping businesses and individual clients to be more efficient, competitive, and profitable.
Ron Quick
Ron and his wife Shona have been married for almost 20 years. Their family includes their three children, Shelby (10), Ronald (10) and Ada (8) along with numerous animals (dogs, cats, birds, etc.). Ron has a Master Degree in Biblical and Theological Studies from Knox Theological Seminary, an MSW from St. Louis University and BA in Bible with a minor in counseling from Johnson Bible College.  Ron has worked in the counseling field for over 20 years. He has served as the director of the counseling program at Christian Family Services in St. Louis, Missouri and currently counsels adolescents who have unsuccessful in the public school environment due to with behavior and emotional problems. He is also an adjunct professor for Missouri Baptist University.  Ron is currently a board member and a seminar speaker for Faith Ascent Ministries and has been involved with the ministry since 2010. His personal interest and expertise in Christian apologetics focuses on the reliability and historicity of the Old and New Testaments.
Patrick Turner
Mr. T (as we affectionately call him) is the former Superintendent and Current Chaplain at Living Word Christian High School in O'Fallon, Mo. He has been with LWCS since 2009. He is a Vietnam veteran, a former land surveyor, and he spent 20 years as a missionary, 18 of those years at the Alliance Academy, a missionary school in Quito, Ecuador. Mr. T received his B.S. degree from the University of Missouri- St. Louis. He has an Advanced Studies degree from Moody Bible Institute and earned his master's degree from the University of Alabama.  He is currently working on his dissertation for his doctorate.
Advisory Board
Michael McClymond, Ph.D
Michael McClymond is Professor of Modern Christianity at Saint Louis University and has completed a term as the Clarence Louis and Helen Irene Steber Professor. He was educated at Northwestern University (B. A. in Chemistry), Yale University (M.Div.), and the University of Chicago (M.A. in Religion, Ph.D. in Theology). In addition to his work at Saint Louis University, he held teaching or research appointments at Wheaton College – Illinois (1988-89), Westmont College (1989-96), University of California – San Diego (1996-98), and Emory University (2001-02).
McClymond's book, Encounters With God: An Approach to the Theology of Jonathan Edwards (Oxford University Press, 1998), received the 1999 Brewer Prize from the American Society of Church History as the best first book in the history of Christianity. He was editor of Embodying the Spirit: New Perspectives on North American Revivalism (Johns Hopkins University Press,2004), and author of Familiar Stranger: An Introduction to Jesus of Nazareth (Eerdmans,2004; winner of the Award of Merit in 2005 from Christianity Today magazine). He is the sole editor of a two-volume reference work that incorporates the contributions of one hundred and twenty scholars, Encyclopedia of Religious Revivals in America (Greenwood Press, 2007).
With Gerald McDermott of Roanoke College, McClymond is co-author of The Theology of Jonathan Edwards (Oxford University Press, 2012). Comprising forty-five chapters, this work is the most in-depth academic study yet published on Edwards's thought, draws on the seventy-three-volume, online Yale University Press version of The Works of Jonathan Edwards (http://edwards.yale.edu), and cites about eight hundred secondary sources.
Cordell Schulten, J.D.
Cordell Schulten is an adjunct professor at Missouri Baptist University and serves as pastor for the English Ministry congregation at the Korean Presbyterian Church in Kirkwood, Missouri. Previously, he was an associate professor of American Law at Handong Global University in Pohang, Korea. He also taught at Fontbonne University. Before teaching, he practiced law for ten years, specializing in commercial litigation and death penalty cases. Cordell earned his M.A. in Theological Studies from Covenant Theological Seminary in 2004 and his J.D. from Saint Louis University School of Law in 1986. He has also done graduate studies in Theology and Culture at Concordia Seminary in St. Louis. Cordell and his wife Sandy have been married for 37 years. They have four children and four grand children.
Jared Stoner
Jared graduated from Central Bible College in 1996 with a B.A. in Bible and Pre-Seminary. He graduated from the Assemblies of God Theological Seminary in 2001 with a M.A. in Theological Studies. Jared served as a staff pastor for 6 years in two different congregations while he was working on his education. He began teaching in overseas Bible Colleges in 1998, traveling for a month each summer. In 2003, the Stoners moved to Sofia, Bulgaria to teach full time at the Bulgarian Evangelical Theological Institute. They loved their time at the school, as well as the opportunities they had to participate in weekend ministry with the students. In the summer of 2004 the Stoners moved to St. Louis so that Jared could begin his Ph.D. in New Testament Studies. Jared has attended West County Assembly of God since the fall of 2004, and came on staff as the Young Adult Pastor in 2006. He became the Interim Pastor on April 2, 2007. Pastor Jared was elected Senior Pastor on May 28, 2008.
Letitia Wong
Letitia is the Co-Director of Ratio Christ at Missouri Baptist University. She holds a BS in Health Sciences with a Minor in Religious Studies from Purdue University in 1997. She went on to complete her Medical Technology certification at Arizona State University in Tempe, Arizona. She has had over 15 years of ministry experience including serving as student Evangelism Coordinator for Purdue University's undergraduate chapter of InterVarsity Christian Fellowship and as ministry coordinator and teacher at Arizona State University's chapter of Campus Ambassadors. In 2009, she attended CrossExamined Instructor Academy at Southern Evangelical Seminary in preparation for public speaking in apologetics. In addition, she co-hosts TruLife Fridays, an internet radio show examining the ethics of the santity of human life. Letitia is currently pursuing her master's degree in theology at Concordia University Irvine.
Subscribe to Our Mailing List
Watch Our Promotional Video
Follow Us!
2 weeks ago
Join us in #StLouis for a charitable, critical, & creative conversation on #science and #scripture. 3 experts. 3 perspectives. Tickets are free but seats are limited. Register here: https://t.co/1ELi6gEiV4 https://t.co/Oci9ve2YDX
Join us in #StLouis for a charitable, critical, & creative conversation on #science and #scripture. 3 experts. 3 perspectives. Tickets are free but seats are limited. Register here: https://t.co/1ELi6gEiV4 pic.twitter.com/Oci9ve2YDX

— Faith Ascent (@FaithAscent) April 12, 2018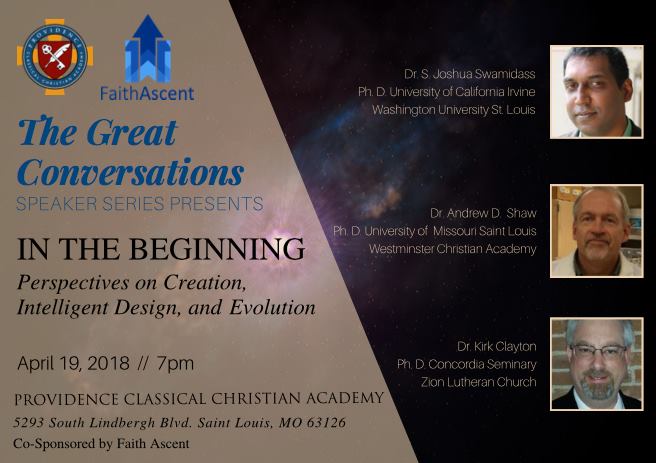 3 months ago
Lots of events this month in #StLouis #Missouri and #Illinois related to #apologetics #mission #evangelism and #prayer. Visit the Faith Ascent calendar for details: https://t.co/tjITBHHNP7 https://t.co/YGrdzNKygH
Lots of events this month in #StLouis #Missouri and #Illinois related to #apologetics #mission #evangelism and #prayer. Visit the Faith Ascent calendar for details: https://t.co/tjITBHHNP7 pic.twitter.com/YGrdzNKygH

— Faith Ascent (@FaithAscent) February 5, 2018